A memorial service is a funeral service, during which the body is not present. Generally, the cremated remains are present in a cremation urn during the memorial service, but they don't always have to be. In fact, memorial services can take place even after the cremated remains have already been buried or scattered. After a memorial service has concluded and the ashes were present, the cremated remains can then be returned to the family, scattered, or buried in a cemetery.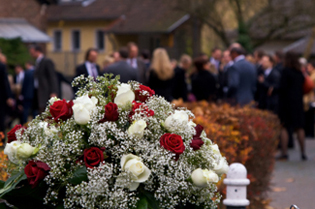 There are many ways to make a memorial service as unique as the person being remembered.
A memorial service doesn't always have to be formal funeral service. It can be as simple or as elaborate as you'd like. If you want a formal funeral service, you should consult a local funeral service professional or member of the clergy. They can help you to arrange service times and meeting places.
However, memorial services can also take place at your home, at a restaurant, in a cemetery, or any public place of your choosing. Please keep in mind, however, that you may need to get special permission or a permit to hold a memorial service on any property not owned by you. Regardless of how simple or formal, there are many ways to personalize a memorial service. Here are some ideas:

Photographs

Photography is such an important part of keeping your loved one's memory alive. Making a photo collage of fun or memorable events from your departed loved one's past is one way of ensuring the memorial service is personalized. Gather together many different photographs and place them on a standard poster board. You can purchase a poster board at any local general store or office supply store. You should tape (not glue) the photos to the poster board, so you can put the photos back in the album when the memorial service is over. Display the photo collage on an easel during the service. This is a great way to share memories with family and friends.
If you want to take the photo collage one step further, you can create a memorial slideshow of digital photographs for the service. The slideshow can be presented in different ways. The photos can be copied to a digital versatile disc (DVD) and played on a DVD-player and displayed on a television screen during the memorial service. You can also set up a portable notebook computer and display a full-screen photo slideshow using the computer's built-in slideshow features. Depending on the method you use, the photos can be displayed in a specific order or randomly, and they can even be played with background music. Memorial slideshows have become a great way to create a unique tribute for a loved one or friend. If you are familiar with computers, you can create your own slideshow. If not, there are many photography studios that can create one for you.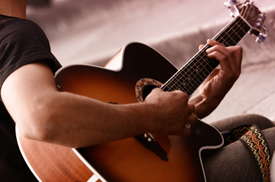 A live performance of music can be an especially touching tribute at a memorial service.
Music

Did your deceased loved one or friend really like a particular singer or musical group? Did he or she have a favorite song or album? If so, a great way to pay tribute to them is to play some of their favorite music during the memorial service. The music can be played as background music or during a eulogy. If you have musical talent, perhaps you could sing or play a song on an instrument in their memory.

Sharing Memories

You can set up a table in an area where many people are likely to gather. On this "memory table," you can place items that will remind friends and family about your loved one's hobbies and interests. In addition to being an ideal location for setting up photos in standing picture frames, you can also put favorite books, sports memorabilia, military medals, playing cards, or anything else that might bring a smile to the faces of family and friends as they pay their respects.

Sadly, the memorial service may be one of the last times that you will have so many people gathered together in a single place, all at one time, with connections to your departed loved one. Some people attending may have traveled a great distance, and others may be getting up in age, which could make future reunions difficult. Therefore, you might want to consider taking this opportunity to ask everyone in attendance to recall a special memory that they once shared with your deceased loved one. Memories can be shared in a notebook or on small pieces of paper. These small pieces of paper can then be deposited into a "memory box" once they've been filled out. Having many people share different memories is a beautiful way to keep those wonderful stories alive for generations to come.

Flowers

Following traditional funeral customs, flowers can be purchased by immediate family members to decorate certain focal points of the memorial service. Sometimes friends, relatives and neighbors will send flowers as a token of their heartfelt sorrow. These flowers can also be displayed during the memorial service, but you should keep in mind, however, that when flowers are sent for a traditional funeral, the flowers are usually left at the grave at the conclusion of the funeral; flowers sent for a memorial service will need to be taken home following the memorial service.

Eulogies

You need to be comfortable with public speaking, but if you can do it, eulogies are sincere and heartfelt ways to share memories, express how your deceased loved one or friend may have influenced your life, and convey your feelings for that person. Eulogies can include a brief biography of the person being remembered, a few memories you'd like to share, or a story about how the person you are eulogizing has influenced or inspired you in some way.
Service Programs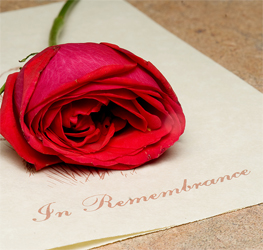 Service programs can include a listing speakers, songs and other unique details about the memorial service and the life being celebrated.
Service programs are a nice memento for those in attendance of a funeral or memorial service, and they fulfill practical needs as well. They show the order of your service and songs, introduce the participants, and thank your family, friends and neighbors for celebrating and honoring a loved one's life with you. They may include photos, songs, poems, a list of participants (e.g., clergy, musicians, and speakers), and an order of events.
Memory Cards

Memorial remembrance cards can be given to everyone in attendance during the service. Memorial cards can be personalized to include the deceased's name, date of birth, date of death, and a special prayer or poem, in any language. They can even include a photo of the person you are remembering. Memorial cards can be printed by a local funeral home or print shop, but you can also print them on your home computer using a variety of printing or publishing software.
Guest Books

Guest or register books provide a perfect remembrance of the special day you celebrated your departed loved one's life. These books provide several pages of blank lines where friends and relatives in attendance may sign. In the guest book, you could also include biographical information about the deceased, important notes about the service, such as the names of important participants or clergy, and the titles of poems read or music played.

Acknowledgement Cards

After the memorial service has been concluded, acknowledgement cards are a nice way to thank friends and relatives for their sympathetic concern during your time of grief and mourning. "Thank You" cards are usually sent within two weeks following the service. Personal letters are generally not expected, so usually a signed acknowledgement card is sufficient enough to say "thank you" for flowers and any other acts of kindness. If a more personal touch is desired, a few words may be written on the acknowledgement referring to flowers, letters of condolence, memorials or assistance. These words can make the recipient feel that your gratitude is as personal as if it had been expressed verbally.