Cremated Remains in Transit
In the weeks and months following the devastating terrorist attacks of September 11, 2001, the United States government took a number of steps to increase security for travelers. The Transportation and Aviation Security Act was signed into law on November 19, 2001. This act originally established the Transportation Security Administration (TSA), the agency responsible for security in all modes of transportation in the United States. TSA was originally part of the U.S. Department of Transportation, but became an agency of the U.S. Department of Homeland Security in 2003.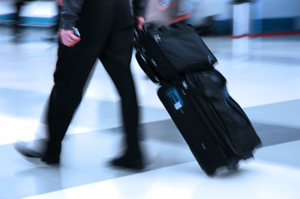 The TSA has implemented specific rules and regulations for passengers carrying cremated remains on commercial airlines.
Commercial Passenger Airlines
Cremated remains may be carried onto commercial passenger flights for many different reasons. Perhaps the ashes need to be taken to a special scattering location, or maybe they have to be buried in a specific cemetery. Regardless of the reason, TSA does permit passengers to carry a cremation urn as part of his or her carry-on luggage, but they have instituted certain guidelines that must be followed.
The cremation container must be examined through the X-ray machine. The urn will be screened and checked for explosive materials or devices using a variety of methods. If cleared, the cremated remains will be permitted as checked baggage only. If the container is made of a material that generates an opaque image and prevents the Transportation Security Officer from clearly being able to see what is inside, then the container cannot be allowed through the security checkpoint.
Out of respect to the deceased and their family and friends, under no circumstances will an officer open the container, even if the passenger requests this be done. Documentation from the funeral home or crematory is not sufficient to carry a cremation urn through the security checkpoint and onto a plane without screening. Cremation urns and containers are made from many different types of materials, all with varying thickness. You should consider placing the cremated remains in the following types of urns and containers when traveling:

| | | | |
| --- | --- | --- | --- |
| | | | |
| Biodegradable | Cultured Marble | Temporary Container | Wood |

Shipping Cremated Remains

Urns containing ashes can also be shipped by a courier. You will first need to make arrangements for someone to receive the cremated remains. You can either have them shipped directly to someone's home or the local post office. You will also need to use a proper shipping container. The ashes must be in a container that is sealed and resilient enough to withstand shipping, and it also must be sift-proof.
It should be noted that only the United States Postal Service (USPS) will ship cremated remains; most other shipping services do not ship cremated remains because the ashes are considered to be "uninsurable." Cremated remains must be shipped via Registered Mail through the United States Postal Service, return receipt only, and they cannot be sent via Overnight Express, Regular, or Certified Mail.