One last story...
An obituary is a story that gives an account of the life of someone who has recently died. Obituaries are most commonly published in newspapers, but they can also be published online. Obituaries can be written by family members, friends, a funeral service professional, or even a news agency, if the deceased was particularly prominent or famous.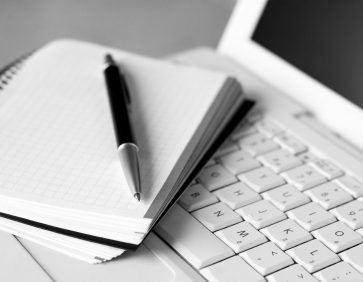 Writing a creative obituary in a unique writing style can serve as a beautiful and thoughtful tribute to your departed loved one.
Your local funeral director usually writes an obituary based on the biographical information you provide during the funeral arrangement conference. Many local newspapers in the United States charge a fee to publish an obituary and the charge for the obituary is usually included on the funeral bill, but not always. The newspaper may also require the obituary to be written on funeral home stationary and sent from a funeral home email address or fax number, to ensure that the information provided for publication is accurate and from a genuine source.
Even though a funeral service professional will usually have to submit the obituary to the newspaper, you still have the opportunity to write a personalized obituary on your own that can serve as a meaningful tribute. Just be sure to give a copy to your funeral director when you're all finished so he or she can properly forward it to the appropriate newspaper(s).
To get started, you can use any obituary in the newspaper as a template, or you can write the obituary on your own in almost any literary style you choose. All obituaries should, however, include certain information about the deceased, such as the deceased's name, his or her last residence (we recommend against including street numbers--a street name or even just the name of the city or town is sufficient), and his or her date of death.
All material included after the primary information is completely optional, such as a photograph, and information regarding the deceased's place of death, birthplace, family background (such as names of parents, pre-deceased immediate family members, and survivors), interests and hobbies, professional, religious, or fraternal affiliations, and upcoming funeral service information.

Here is a list of some of the most common elements found in an obituary:
Name of deceased
Age
Residence of deceased
Date of death
Place of death
Date of birth
Birthplace
Father's name
Mother's maiden name
A list of pre-deceased immediate family members
Education
Military service
Interests or hobbies
Achievements
A list of social, fraternal, professional or religious organizations in which the deceased held membership
A list of survivors
An announcement of service times and dates
An announcement of final disposition (burial in a specific cemetery, donation to medical research, cremated remains scattered or inurned in a columbarium niche, etc.)
A request for donations to a specific charitable organization to be made in the deceased's memory
Publishing an obituary in a newspaper or online is completely optional. You could choose to publish a full obituary (containing most or all of the elements found in the list above) or you could choose to publish just a partial obituary (only a death announcement or a notice of service times). You could even publish an obituary after all the funeral services have concluded if you prefer privacy.

Although publishing an obituary is optional and not required by law anywhere in the United States, it should be noted, however, that obituaries are different from legal or public death notices. While obituaries function almost as a tribute for the deceased by telling the story of his or her life and announcing funeral service times, a public death notice is published in the "Legal" section and may actually be required by the courts during probate. The purpose of a public death notice is to inform any possible creditors about a person's death and publicly announce that his or her estate is being administered. This gives any potential creditor the chance to petition the court and file a claim against the deceased's estate. During probate, if the courts require you to publish a legal death notice, they will provide information to you regarding where and when it should be published, and if you have an attorney handling the estate, he or she will usually be able to offer additional help in satisfying any requirements specified by court.