The Rainforest of the Sea

Burial at sea has been a traditional funeral custom for thousands of years. From the Ancient Egyptians to the Vikings, countless cultures from around the world have practiced various forms of sea burial at one time or another. In modern times, burial at sea has become customary among the navies of the world. There are even caskets made today that are specifically designed to sink when placed into the open ocean. In spite of this, no one has ever imagined that a sea burial could also function as a living, growing, and environmentally-friendly memorial--until now.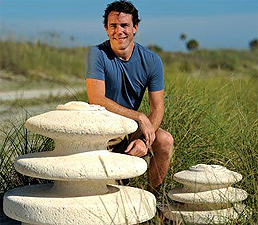 Great Burial Reef founder, Jason Rew.
The Great Burial Reef is perhaps the most innovative and fascinating concept ever fathomed for burials at sea. The idea began many years ago when the company's founder, Jason Rew, went sailing with his father and grandfather in the Gulf of Mexico. The trio loved the sea and it was during that trip that they commented about how neat it would be to be able to be buried among the coral. Jason's father, Timothy, with his love of puns, thought it should be called the "Great Burial Reef."

Although it was an interesting idea at the time, Jason was busy with college. He enlisted the help of one of his friends to write up a business plan for the idea, but Jason eventually got a job in New York, married, and had a son. With all the other priorities in his life, he realized the Great Burial Reef was a project that needed to be put on hold, perhaps indefinitely.

It wasn't until 2006 when Jason's father passed away unexpectedly that he realized it was now or never for the Great Burial Reef project. Jason decided that his father needed to be memorialized among the coral reefs in the sea that he loved so dearly. He called his friend who had helped him write the Great Burial Reef business plan years ago and said to him, "It's time. You want to do this?" The answer came before Jason had a chance to finish the question.

The Science behind the Great Burial Reef

There is a considerable amount of science behind the Great Burial Reef. The makers have worked with experts in many relevant fields, including marine biology, land ecology, funeral service, engineering and construction, and a variety of governmental offices. The current Great Burial Reef products benefit from over twelve years of collaborative research and development. The patent-pending Great Burial Reef products are designed to attract life, whether they are placed in the ocean, on land, or in fresh water.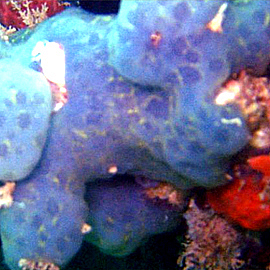 Coral reefs provide a home for twenty-five percent of all marine life.
Coral reefs are underwater structures made from calcium carbonate secreted by corals. Corals are colonies of tiny living animals found in warm, shallow, clear, sunny and agitated waters. Most coral reefs are built from stony corals, and are formed by polyps that live together in groups. The polyps secrete a hard carbonate exoskeleton which provides support and protection for the body of each polyp.

Often called "rainforests of the sea," coral reefs form some of the most diverse ecosystems on earth. They occupy an almost infinitesimal percent of the world's ocean surface, yet they provide a home for twenty-five percent of all marine life, including fish, coral, mollusks, crustaceans, and sponges.

Great Burial Reef products have a textured surface for a very specific reason: once placed in the ocean, the Great Burial Reef quickly becomes "live rock." Marine biologists and saltwater reef aquarium hobbyists alike understand how vitally important live rock is to a marine ecosystem. Live rock is rock which has a very porous surface with many small cavities. The rock is considered to be "live" because it provides the perfect habitat for thousands of species of micro and macroscopic organisms, including corals, coralline algae, sponges, nitrifying bacteria, and invertebrates. The Great Burial Reef, however, can also be placed into freshwater eco-systems, and it will likewise attract and foster life.
The Great Burial Reef Classic
Price: $3,999.00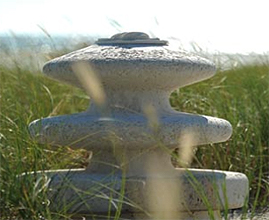 The Great Burial Reef Classic cremation urn stands at 26 inches high.
The Great Burial Reef Classic is based on over thirteen years of constant design and evolution. Hand-crafted from natural concrete, natural reinforcing fiber, volcanic ash, and six proprietary, naturally-occurring minerals, it has a Tuscan beige-colored exterior and weighs approximately 600 pounds.

It is specifically designed for permanent placement on the ocean floor, where it will withstand any and all natural ocean elements for generations. When lovingly placed, the Classic immediately begins to attract and foster marine life.

The Great Burial Reef Classic has enough room in its core chamber to accommodate the cremated remains of up to two individuals. Once the Great Burial Reef Classic has been purchased and is ready for sea burial, the cremated ashes can be shipped directly to Great Burial Reef, where they will be carefully and respectfully sealed inside the urn.

The crew will then place the Great Burial Reef Classic into the ocean. You will receive a Certificate of Living Coral Reef Burial which details the date, time, depth, and GPS coordinates of your loved one's final resting place. Some families who purchase the Classic also choose to participate in the ocean dedication and placement.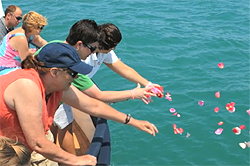 Great Burial Reef partners with several yacht charter companies who handle all of the family participation services.
Great Burial Reef proudly partners with several yacht charter companies who handle all of the family participation services worldwide with exceptional quality and care. If you are planning to schedule and attend the sea burial ceremony, you will need to make these arrangements with Great Burial Reef.

Great Burial Reef Classic ocean placement life celebrations are currently available from four magnificent ports of call. Optional family participation services are available at: Gulf of Mexico - Sarasota, Florida; South Atlantic - Miami, Florida; Mid-Atlantic - Washington, D.C. (Chesapeake Bay); and North Atlantic - Boston, Massachusetts.
The Great Burial Reef Living Urn
Price: $999.00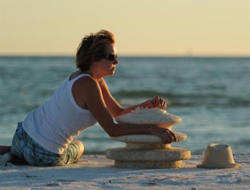 The Great Burial Reef Living Urn stands at 12 inches high.
The Great Burial Reef Living Urn is an environmentally-friendly cremation urn, also hand-cast from naturally-occurring minerals. It has a Tuscan beige-colored exterior and weighs approximately 60 pounds. The urn is sealed closed with the included heavy duty marine-grade adhesive.

While the Great Burial Reef Living Urn was designed for ocean placement, it can also be placed in private fresh water or on private land. The Living Urn makes it possible for you to gather your family and celebrate your loved one's life in whatever way you choose, when you want to do it, without the encumbrance of strangers or officials. Whether you choose the ocean, fresh water, or somewhere special on land, including in your own back yard, you have the ability to create the perfect final resting place for your loved one.

Both the Great Burial Reef Classic and Living Urn provide a beautiful, living memorial to the deceased in the form of a coral reef. The water burial of a Great Burial Reef cremation urn is a celebration of cherished memories and beautifully demonstrates the perpetual cycle of life.




UrnShopper.com is an official distributor of Great Burial Reef, a Bradenton, Florida-based company. Please contact UrnShopper.com Customer Service for more information about Great Burial Reef products and options. Prices are listed for informational purposes only and are subject to change. You should check with all local, state, and federal laws before placing a Great Burial Reef Urn anywhere other than your own private property.